When I tell people we are renovating our bathroom, I think they mostly assume that we are updating the wall colors and vanity, maybe some new tile and flooring. That's what I envisioned when I thought we'd take on a fixer-upper. Instead, we decided to completely move our bathroom to a new location in the house, which meant a total gut of the current bathroom and adjoining room where we were moving it – new plumbing, electrical, framing, drywall… which doesn't include the aforementioned wall colors, vanity, tile, etc.
The project has taken months longer than we anticipated, but it now feels like we're on the home stretch. Since the last time I updated the blog on the bathroom renovations we've completed the demo of the two rooms, reframed the new area for the bathroom, added new subfloor, ran plumbing to all the new fixtures, added new electrical lines to where we will have lights, added drywall, and just started on the tile! We work mostly on Saturday's, so only working one day a week makes all this take what seems like forever.
Even though there are still a lot of finishing pieces, its so nice to see the room come together to actually feel like a room. Sometimes I just go stand in the area that will be the shower and try to grasp what it will feel like when the shower and the rest of the room is actually complete.
As you can see from our photos, we are putting subway tile in the whole area of the stand alone shower. We used a Schluter System to make the shower area water proof and to create a mold for the floor (the Schluter Shower System includes a styrofoam piece that is the perfect shape for the shower floor to have the correct angle down to the drain). This was our first time tiling, so we really underestimated the amount of time it takes to lay that much tile. It's rather simple to do, but tedious and time consuming!
Now we have started on the shower floor. It should be complete this weekend, but as I mentioned before, we are pretty bad at underestimating the amount of time things take. The shower floor (and the wall niche) are slate tile in a herringbone pattern. It's a little extra work to create this pattern, but I totally love it! 
Next weekend we are hoping to add grout. I chose a light gray for the grout to still make the individual tiles stand out but not have too much contrast. The bathroom floor will also be slate herringbone, but with a little larger tile.
So what's left besides tiling? We need to put some finishing touches on the drywall before we prime it. Then we're adding board and batten to the lower part of the walls that will be painted white and this wallpaper from Anthropologie to the top. I bought the wallpaper the first month we started on the bathroom!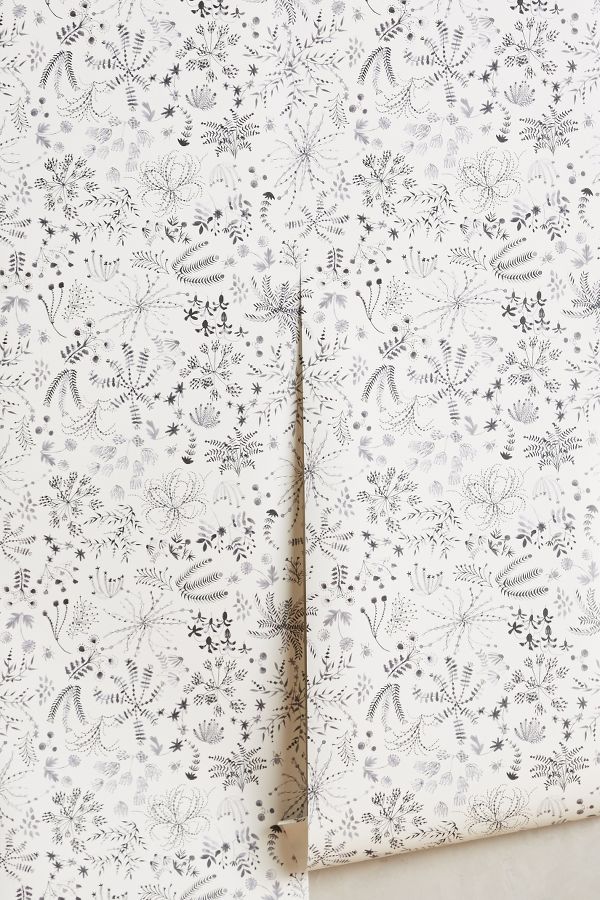 Last we'll install lights, the toilet, and the vanity that we are building ourselves. I'm still undecided about whether we will add a built in or if I will just buy a shelving unit for the area that's juts in on the opposite wall of the vanity. Either way, we know we need some extra storage in that area.
My estimated completion date: May 6. Asa would disagree. He thinks sooner, but I'm trying to be more realistic than we've been. When you are renovating your own home and trying to live a life while working full time jobs, things don't always go as planned. Just this month alone, Asa and I got both got the flu on separate weekends, we are visiting a friend that is coming into town from across the county and Asa is applying to scholarships and to different schools… plus all those other life things like laundry, grocery shopping, cleaning, regular home maintenance, etc., etc.
Even if the bathroom isn't done until May 6, that feels so soon. I can't wait to have a beautiful new bathroom that we designed and built all by ourselves!